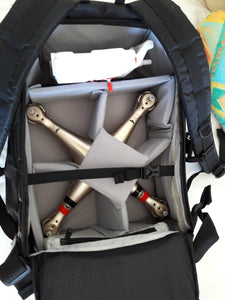 DRONE BACKPACK - NYLON, WATERPROOF
Customize the interior to suit your drone.
Plenty of pockets for extras.
Backpack opens from the rear so has to be taken off before it can be opened. This is for added security.
This backpack is spacious and designed to carry many accessories, providing a convenient way to transport your equipment, whether you are trekking or just  flying your drone in the park. It is extremely lightweight and super durable with Nylon water resistant material. 
Fits the SYMA X8HW, JJRC H31, JJRC H5P etc. 
Weight: about 1.8kg
Dimensions (cm):   32 x 20 x 47
Material: Nylon
---